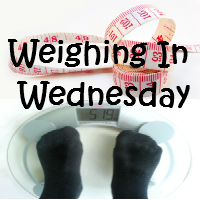 Last week was a week where I went to visit my in-laws. My Mother-in-Law is a wonderful cook! She made homemade apple pie, lasagna and meat loaf. She also makes a sit down breakfast each morning. I didn't eat as much as I could have, so I would say that last week was great!
Leaving the table before feeling completely full may be customary for some of you. For me, I sometimes ate until there was no physical way to shove another filled fork into my mouth.
I still need to exercise more. Exercise is something that I know we need to do. My excuses are my asthma and my back. Right now, I am having one of the days where I am lying flat on my back. There is no getting up without excruciating pain.
Have any of you lost weight this week? I would love to hear how you did. If you didn't lose weight, don't give up, I know we can do better next week!